POWELL-WILLIAMS ARCHITECTS

MULROY BAY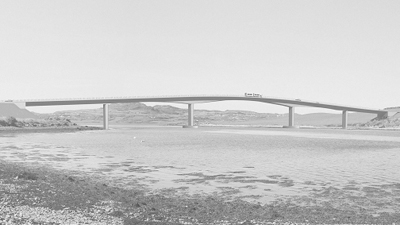 This new 343m road bridge is in a European designated Special Area of Conservation (SAC), a European designated National Heritage Area (NHA), and a national designated Area of Outstanding Beauty. The bridge was completed and opened by An Taoiseach in May 2009.
Donegal's Development Plan includes the objective of forming an interlinked maritime chain across the north of the County. This comprises a link across Lough Foyle, from Greencastle to Magilligan, and a link across Lough Swilly from Buncrana to Rathmullen. The Bridge across Mulroy Bay represents the final link in the maritime chain.
February 2010 - Zurich LAMA Award "Best civil engineering project in Ireland".
Client: Co Donegal & NRA
Consulting Engineers: RPS (MCO'Sullivan & Co Ltd)